Are 365 Days Movie Actor Michele Morrone And Khole Kardashian Dating
Michele Morrone And Khole Kardashian Dating
After a viral snapshot from Milan Fashion Week, romantic rumors about Khloe Kardashian and Michele Morrone began to circulate. Earlier this year, Khloe Kardashian and Michele Morrone posed for a close photo together as they got to know one another at Milan Fashion Week.
Khole Kardashian and Michele Morrone in Milan Fashion Week
Last weekend, Khloe attended the opulent fashion event to celebrate Kim Kardashian's performance on the Dolce & Gabbana runway with her mother Kris Jenner, and nieces and nephews North, 9, Saint, 6, and Chicago, 4. Despite the fact that Khloe Kardashian and the 365 Days actress have only recently met in Milan, many are hoping that they will end up being together. After the two were sighted together on September 24 at Milan Fashion Week and even posed for a cuddly photo together, romance rumors about the Kardashians star and the Italian actor began to circulate. Kim's children North West, 9, Saint West, 6, and Chicago West, 4, as well as Kim's mother Kris Jenner, were seated next to Khloe and Michele during the event. Italian actor, model, singer, and fashion designer Michele Morrone can be seen in films shot in both Italy and Poland. He gained worldwide recognition after starring as Massimo Torricelli in the erotic love story 365 Days in 2020. Later, the actor from the film 365 Days shared a photo on Instagram that quickly acquired popularity and sparked relationship rumors. The warm backstage photo Morrone shared showed him holding her close and whispering in her ear. Although they seem to get along well, neither Khloe nor Michele have confirmed or denied any rumors of a possible relationship at this time. While many people were taken by surprise as they saw the celebrities wearing their most glamorous outfits at the Milan Fashion Week event. But there were many others wishing to see the couple together in the hopes that Khloe may have found a new love interest after her split with ex-boyfriend Tristan Thompson last year.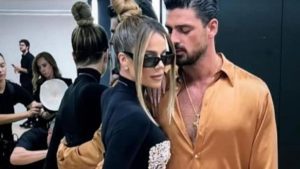 Khole Kardashian Recently Welcomed her Second Child with Ex-Partner Tristan Thompson via Surrogacy
It appears that The Kardashians star Khloe is single currently according to recent reports after she split from her private equity investor boyfriend last month. Kardashian just gave birth to her second kid via surrogacy with her ex-boyfriend Tristan Thompson in the meantime. Khloe already gave birth to True Thompson, the child she shares with the NBA player. Khloe presented her baby kid on the just-released second season of The Kardashians, but she has not yet revealed the name of her newborn baby. On Thursday, the first episode of the new season of the reality show featured the first television appearance of Khloe and Tristan's child. Although Khloe has kept his name a secret, she said on the show that she would give her son a name that starts with the letter T to match her daughter True. Despite the fact that Khloe and Michele don't yet follow one another on Instagram, observant followers will undoubtedly keep a check on the couple's future social media activity. After working out on September 25, Morrone uploaded a shirtless selfie of himself. This was done in response to his viral photo with Khloe from Milan. According to numerous sources, Khloe Kardashian has an estimated net worth of $60 million.