History of Team America at the FIFA World Cup: Results, Records, Top Players | America Vs Wales 2022
History Of American Football
The young Americans under Gregg Berhalter head to Qatar in 2022 with a rich history to draw on this time. The United States missed out on the 2018 FIFA World Cup in Russia, but they can look back on a rich past as they prepare to compete again this year in Qatar. The history of the USA at the FIFA World Cup is detailed below.
History of America in FIFA World Cups
The United States will participate in its 12th FIFA World Cup in Qatar in 2022. At the first competition in Uruguay in 1930, they made their debut trip to the world championships. Additionally, it continues to be an American team's best performance. In the subsequent years, the United States has had additional memorable moments, including a shocking victory over England in 1950. They arrived in Qatar with a youthful squad that was loaded with experience, despite failing to qualify for the most recent World Cup in Russia in 2018 (the first tournament without an American side since 1986).
American FIFA World Cup Records
The first hat trick in World Cup history was achieved by American Bert Patenaude in 1930. He scored all three goals as Paraguay was defeated 3-0. Although it had been debated for many years, FIFA officially acknowledged that interesting fact in November 2006. With five goals, Landon Donovan continues to be the top American scorer of the World Cup (two in 2002 and three in 2010). With 12 games across three tournaments, he has also participated in the most World Cup games of any American male (2002, 2006, and 2010). The enduring DaMarcus Beasley is the only American to have participated in four World Cups. The Indiana-born speedster competed in the 2002 competition and then again in 2006, 2010, and 2014.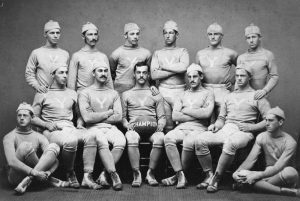 America in FIFA World Cups Stats
The United States has played 33 games in their 11 World Cups prior to 2022, with 8 wins, 19 losses, and 6 ties. They've scored 37 goals overall while giving up 62. The USA is still the side from the North, Central America, and Caribbean zone with the second-most tournament appearances, having qualified for their 12th FIFA World Cup in Qatar this year.
USA in FIFA World cups Top Players
The 1950 team that defeated England was loaded with semi-pro stars after the early days of Gonsalves and Patenaude, including goalkeeper Frank Borghi, Walter Bahr, and Harry Keough. These players' names served as a beacon for succeeding generations. Eric Wynalda, Tab Ramos, and John Harkes were the standout players on the team that made its first World Cup appearance in 1990. Despite suffering defeats in each of those three matches in Italy, that competition laid the way for a strong 1994 and beyond. Donovan as well as Kasey Keller and Brad Friedel, two of the best goalies ever, came into their own in the early 2000s. They in turn set the way for the period of Clint Dempsey and Tim Howard, and ultimately for the players of today, who will travel to Qatar with great expectations and lofty goals.
---
America Vs Wales highlights
The United States of America will start its FIFA World Cup 2022 campaign with a match against Wales at the Ahmad bin Ali Stadium in Al Rayyan, Qatar. Christian Pulisic of the United States is expected to be one of the leaders in the tournament. All eyes are on tomorrow's match.