Love Island Maura Higgins Revealed That Once She Was Sexually Assaulted By A Taxi Driver
Shocking news came to surface as Love Island Maura Higgins revealed that once she was sexually assaulted by a taxi driver when she fell asleep in the back seat of his car during a night out. The news came to light when Maura was questioned by a fan during a Q&As 'what is the worst experience you had with a man' the answer well rattled the social media as she came forward and told the incident although she kept the details to herself and didn't want to discuss it further as to how the assault happened, what day it was, and who was the man.  She started her story saying that she was alone during that time as it was a night out, her friends were all drop off together and during those days she used to live alone that is why she was sent off to last. Silly of her as she was tired she fell asleep and woke up when that man's hands were on her skirt.
Maura Higgins also stated that during those few moments everything came back to her in a flash, a feeling of loathe urges inside of her and she quickly sobered up that not only she remembers that horrific person but also his taxi number. Though she stopped her story right there and didn't say whether she filed a report against him or not. It really was a terrifying moment indeed for she is still not ready to go into details.
Maura Higgins The Love Island star gained her popularity on the same show at ITBe where her fame shot up in 2019 when she finished in fourth place alongside her ex boyfriend, dancer Curtis Pritchard who was 26 years old. Maura Higgins boyfriends may be many but she surprised fans when she announced that she was dating Love Island co-star Chris Taylor who was 31 years old and was her former best friend at the time in November 2020. Maura Higgins and Chris Taylor relationship didn't hit off as they soon split up in just a few months after going public.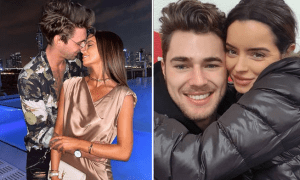 The Love Island star then enjoyed a romance with Strictly Come Dancing professional Giovanni Pernice, who is 31, in the summer of 2021, but they split just a few months later. Maura Higgins' boyfriends include an athlete after she and footballer Connor sparked dating speculation once again last month as they shared snaps from the same barbeque.
---
---
The rumored couple, who also reportedly made things official and jetted to Paris together on a break, but it seems that it may have not turned out well since during her Q&As she also revealed that at the moment she is currently single and not dating anyone. The star took questions from fans and stated that she looked for looks and didn't find a good match and then she looked for personality but luck wasn't by her side so now she waiting things on fate and enjoying her single life.
FAQ's
What is Maura Higgins Age?
Maura Higgins Age is 31 Years.
Who sexually assaulted Maura Higgins?
A taxi driver sexually assaulted Maura Higgins.
Who is Maura Higgins Boyfriend?
Connor Wickham is Maura Higgins boyfriend.