Sylvester Stallone And Jennifer Flavin's Fight Over a Dog Turned Into Divorce
Biography Of Sylvester Stallone
| | |
| --- | --- |
| Name | Sylvester Stallone |
| Age | 76 Years |
| Sylvester Stallone's Wife | Jennifer Flavin |
| Net Worth | $400 Million |
| Occupation | Film director, producer, Actor |
Sylvester Stallone And Jennifer Flavin's Fight over a dog
The husband's best friend turned into the wife's worst nightmare. Sylvester Stallone, the blockbuster legend, and his wife of 25 years have ended their relationship. The reason for Sylvester Stallone And Jennifer Flavin's divorce has been revealed. c Stallone, who is 76 years old, apparently wanted the dog. The name of the dog is Dwight and Stallone wanted it for the protection of his family". However, Flavin was not on board and was unhappy with the decision of adding another dog to the family.
Instead of compromising and adjusting, the couple fiercely stuck to their positions and argued with each other. This dog-keeping argument allegedly led to an extremely heated and massive fight that brought up other issues of their marriage. Although it didn't seem to be marriage-enders at the time. Unfortunately for both Flavin, who is 54 years old, and their marriage, the Rocky star won the fight and used the dog in the promotion of his new show, Tulsa King, by naming him after the name of his new show's character. Stallone's fame didn't immediately come back to Page Six's request for comment. "I am happy with my new dog friend, Dwight. It is my character's name from a new show, keep punching and keep barking !!!" Stallone shared through an Instagram post.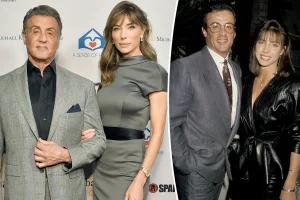 Covering the Tattoo and Other Marriage issues
Butkus was Stallone's former dog and the famous bull-mastiff from the Rocky franchise. It is expected that it may have also been a reason in the couple's marital problems after he changed a large tattoo of his wife's face by covering it with a picture of the late pooch. On August 16, Tattoo artist Zach Perez showed the cover-up through an Instagram post. After many fans commented on the social media post to question whether Flavin was bothered about her husband's shady move, after which Perez deleted the post from his feed. Michelle Bega, Stallone's publicist, subsequently told the Daily Mail that the Oscar nominee loved and cared for his family and explained away the reason behind the updated tattoo.
She told the newspaper that Mr. Stallone's intent was to refresh the tattoo image of his wife, Jennifer. But, the results were unsatisfactory and completely unfixable. "As a result, he covered the original tattoo with a tattoo of his dog Butkus to fix the tattoo." A few days later, on August 19, Sylvester Stallone's Wife Jennifer Flavin files for divorce in Palm Beach County, Florida. In the court documents obtained by Page Six, the former model, Flavin claimed their union to be irretrievably broken. Flavin also allegedly blamed her husband for being engaged in the intentional destruction, depletion and/or wasting of their marital assets. Stallone shared to the publication, "I love and care for my family. We are dealing with these personal issues, amicably and privately".
Stallone personal relationships
Sylvester Stallone and Jennifer Flavin's wedding took place in May 1997 after they met at a restaurant 10 years before. Sylvester Stallone and Jennifer Flavin had three daughters named Sophia, 25, Sistine, 24, and Scarlet, 20. Before Flavin, Stallone was married to Sasha Czack from 1974 to 1985 and then to Brigitte Nielsen from 1985 to 1987. He and Czack had two sons Sage, who died in July 2012, and Seargeoh, 43.