Why Astros Acquire Trey Mancini From Orioles in Three-Team Deal? 2022 MLB Trade Deadline
As the season's deadline is approaching, the Astros fulfilled their three needs as the Trade comes to an end. On Monday they approached and acquired first baseman/designated hitter, Trey Mancini, from the Orioles and catcher Christian  Vazquez from the Red Fox and will soon confirm if they acquire left reliever Will Smith from the Braves in separate deals.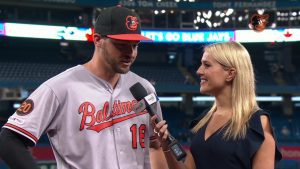 Mancini comes in with a three-team deal along with the Rays and Orioles. Trey will provide the Astros with a veteran right-handed player to fill up their lineup very easily with him having the ability to play first base, designated hitter, and even left field. Trey along with Vazquez are high-contact hitters and it is something the Astros value.
---
---
Mancini, the colon cancer survivor, has a $10 million mutual option for 2023. Trey's stats numbers are good as he has hit .268/.347/.404 with 10 homers this year with 41 RBI and 39 runs in 92 games this season. After being diagnosed with colon cancer he missed the 2020 game but returned for 2021 with a hit of 21 home runs in the regular season and also advanced to the finals in the Home Run Derby last year. To this date, Mancini's year came in 2019 when he clubbed 35 home runs and drove home 97 runs while hitting .291/.364/.535, which was a 134 OPS+.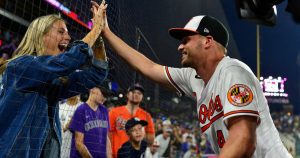 According to Trey Mancini's contract, he signed a one-year deal of $7,750,000 with the Baltimore Orioles, including a $7,750,000 guarantee with an annual average salary of $7,750,000. After being traded off to the Houston Astros his adjusted salary with them will be $2,678,585.
After being sent off to Houston Baltimore Trey Mancini's fiance Sara Perlman tweeted on her page to thank the Baltimore Orioles fans for their support towards her lover. Mancini and Perlman got engaged last November, and are set to get married this coming offseason. Perlman is a broadcaster for NBC Sports, where she hosted USFL coverage this past season, and is also a host of gambling content on PointsBet.