Reason Behind NFL's Star Player, Demaryius Thomas Passed Away Last Year
When did Demaryius Thomas die?
Six months after retiring from football, the former NFL receiver died on December 9 at his home in Roswell, Ga., at 33.
Demaryius Thomas spent ten seasons in the National Football League with three different teams: the Denver Broncos, the Houston Texans, and the New York Jets.
How did Demaryius Thomas die?
Demaryius Thomas, a four-time All-Pro receiver for the Denver Broncos, died of seizure-related complications, according to the medical examiner in Fulton County, Ga., on Sunday. After his death, he was diagnosed with chronic traumatic encephalopathy or C.T.E.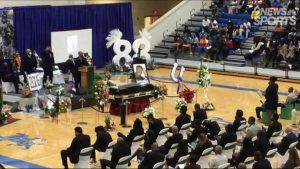 In July, doctors at Boston University discovered that Thomas had C.T.E., or chronic traumatic encephalopathy, a degenerative brain illness caused by repeated head impacts. The condition, which can only be detected after death, is not, however, fatal. Doctors suspect Thomas' seizures were caused by an automobile accident in 2019 when his skull smashed the windshield and hydraulic rescue equipment was required to extract him from the vehicle. Dr. Ann McKee, the neuropathologist who studied Thomas's brain, stated that C.T.E. was highly unlikely to have caused his seizures, and Thomas most likely died as a result of suffocation during a seizure. While the cause of Thomas' death was confirmed, Bertram Ennett, an investigator with the Fulton County medical examiner's office, stated that the manner in which he died was still unknown.
---
---
According to Bobby Thomas, Demaryius's father, Thomas's driver discovered him prone in the shower at his home. Demaryius Thomas' seizures became increasingly frequent and severe in the final year of his life, according to Bobby Thomas and others. They assailed without notice, causing Thomas to get into multiple car accidents and even trip down steps. At the same time, he had some of the symptoms linked with C.T.E., such as memory loss, paranoia, and isolation. His conduct became increasingly unpredictable, according to those closest to him, and he went for extended periods without leaving his house or responding to phone calls or text messages.
Demaryius Thomas had headaches throughout his NFL career, which began in 2010 after being selected in the first round out of Georgia Tech. Thomas, later on, was leveled by Carolina Panthers linebacker Luke Kuechly during Super Bowl 50 and had such a horrible headache that he missed most of the celebrations following the Broncos' triumph.
In 2019, Thomas was driving 70 mph in a 30 mph zone in Denver when he lost control and overturned his automobile many times. Thomas returned to the Jets for his final season with the team in 2019, for 11 games. He continued to work out in 2020 but quit training in the middle of the year as the frequency of his seizures worsened. He did not play that season and formally retired in June 2021. Thomas stated in a video announcing his retirement that he was still determining what to do next and looked to create partnerships with anyone who could assist him.
"It ain't easy leaving football," he said. "Because that's my main thing, just trying to find self and put out love."