Finnish PM Sanna Marine After Her Wild Party Video Went Viral Said I Did Nothing Wrong
Finland Prime Minister Sanna Marine Biography
Name
Sanna Marine
Age
36 Years
Sanna Marine's Husband
Markus Räikkönen
Net Worth
$4 Million
Profession
Prime Minister of Finland
Political Party
Social Democratic Party of Finland
Education
Master's degree in Administrative
Science from the University of Tampere.
Finland Prime Minister Viral Party Video
The Finland Prime Minister was seen partying along with many Finland celebrities in this leaked viral video. The video was shooted and posted on social media pages which will soon be taken down and have taken quite a swirl in the political world as Sanna Marin faced a heavy backlash from her foes and friends alike. She was seen dancing and singing with many party goers and the opposition is taking a huge advantage on the matter. The opposition party is demanding that Sanna Maria should take a drug test as she looks tipsy and not fully functional whereas Ms. Maria refused to take any drug test and stated that all she was doing was getting drunk at a party and enjoying bohemian style.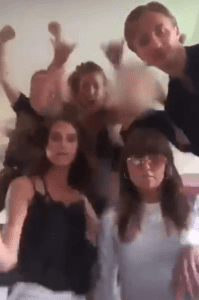 Sanna Marin who was formerly known as the world's youngest head of the government is not so shy away from partying for she has often been photographed attending many music festivals. Although her careless party attitude got her in a mess as she came close contact with a covid 19 positive victim and quickly apologized for her reckless behavior but nevertheless she is carefree and likes to live in such a way that just last week Ms Marin was dubbed as "the coolest prime minister in the world" by a German news outlet.
---
---
Sanna Marin after knowing about the leaked footage answered many questions and stated in her statement that she knew was being filmed at this party and she was totally fine with it but what she doesn't like and it makes her sad that someone would take advantage of her free will and would release the tapes in public. Opposition party leader Riikka Purra urged the youngest Prime Minister to undergo a 'drug test' for there is a shadow of doubt over her head. MP Mikko Karna, a member of the Center Party who worked in the coalition government with Miss Sanna Marin stated that Ms Marin should volunteer and come forward for a drug test so that everybody could get her mouth shut.
Ms. Sanna Marin has opened to suggestions and during media talk clearly stated that she was not on drugs and has never will nor would she do any drugs under any circumstances or influence and she has no problem with taking a test that she has been asked countless times after the release of the tapes. Ms. Sanna Marin also said during her media talk that even after all of this she would not change her behavior and would still be the same with a carefree attitude and a party-going will. The Opposition did not take her to talk with the media personally well and stated that there are more pressing problems this country is facing and instead of talking on political matters or on domestic problems within the country the media and their Prime Minister were talking and discussing partying.
Miss Sanna Marin has been in power in the government as the Youngest Prime Minister of Finland since December 2019 and has retained all the support from her party.
What is the age of Finnish PM Sanna Marine?
Sanna Marine is 36 years old. and she is the youngest head of government.