Ryan Reynolds and Blake Lively are Expanding their Family Again with their Fourth Baby
Blake was Seen with a Baby Bump at the Annual Forbes Power Women's Summit
The Gossip Girl star is 35 years old and is pregnant. She is expecting her fourth baby soon with her husband Reynolds. The duo is already parents to three beautiful daughters: James, 7, Inez, 5, and Betty, 2. Lively was seen at the 10th Annual Forbes Power Women's Summit on Thursday. There she posed in a sequined long-sleeved mini dress that displayed her baby bump well. The expectant mom completed her look with a white headband and scarf, with complementary matching sky-high heels. Back in December during an interview the Deadpool actor, 45, opened up about the worth of spending quality time with his kids. He stated that it was a major reason for him in his decision to take a break from acting for now. 'I guess I really have to admit my love for kids, because I am extremely obsessed with my kids,' Lively explained when asked about her role as a mother. The "Age of Adaline" starrer new mom-to-be has yet to announce this news on social media.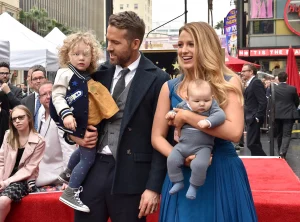 Ryan Reynolds Wants his Children to Live a Normal Life
However, the couple always makes sure to keep their personal lives firmly private behind closed doors. They want their kids to be exposed to the buzzing world this early. While speaking to LinkedIn News Senior Editor at Large Jessi Hempel, Reynolds said about his leave, "I know you have had kids as well and the most important thing for me now is that I do not want to miss this time and special moments with my kids." Reynolds later clarified that he simply wants to live life as other normal humans do. He wants his kids to have a life and routine like other kids have. For some years when my wife Blake would be busy shooting any films, I would not work nor shoot any film. I will utilize that by being with our kids and vice versa. So we both would sort of trade-off like this. We really tried to never work at the same time. But we were always away, as a result, the kids were away too." Reynolds talked about the challenges he faced as a parent. He went on to explain that his lifestyle has changed a bit and become challenging as their children get older. As of now, they are in school and they have adjusted to a somewhat normal schedule. I feel it is really important for their development and overall growth and I really enjoy my role as a present dad," he explained. Reynolds further says that every morning he took his children to school and later enjoyed picking them up from school again. I really enjoy this whole process," Reynolds further says he is enjoying the juggle between work and life.
As I put hours to do things I am passionate about in between to focus on those things like all maximum effort." Reynolds and Lively have been together since they met each other in 2010 and are cast together in the green lantern movie. Later their wedding took place in 2012. In 2014 the couple welcomed their eldest daughter, James. Later they expanded their family once again with Inez in 2016, and Betty, in 2019.