She Hulk Disney+ Marvel Studio Television Series is Set to Premiere Next Week
Marvel Studios has made a comeback in the live-action series, and since 2008 it is for the first time that the MCU is introducing the green character again with She-Hulk: Attorney at Law on Disney+.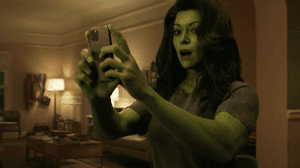 Marvel's She-Hulk: Attorney at Law is directed by Kat Coiro, who recently teased what could have occurred if She-Hulk season 2 were to released. The announcement of the show was made in 2019. The upcoming She Hulk Disney+ MCU television series is set to premiere next week.  This is considered to be the marvel studios' she hulk final trailer Phase Four. It is a legal comedy television She Hulk series that will focus on Tatiana Maslany who is playing the role of Jennifer Walters. She is a lawyer by profession who has been hired to defend human beings with her supernatural powers. After a car accident that occurred due to the appearance of a spaceship, Walters got accidentally infected with Bruce Banner's blood. This accidental infection leads her to a major personality transformation into She-Hulk.  She-Hulk is a tall woman and She-Hulk height is 6 '7 " tall and green colored version of  Jennifer Walters that has inherited the super strength and rapid healing powers of a Hulk, Bruce Banner.
The show has geared up its promotional tour over the last couple of weeks. And  an initial couple of clips from the She-Hulk 2022 series teaser show the origin of She-Hulk and her early days of training for becoming a superhero. The show will be a  fruition of nine episodes of legal drama, focusing on the MCU's comedic side along with expanding on the Hulk's solo presence within the Marvel narrative.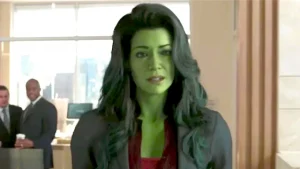 It's been expected through teasers more than a few times that She-Hulk: Attorney at Law may bring some unrevealed new She-Hulk cast to the MCU universe. Each episode can possibly bring in a new face, each will have its own legal issues to solve.  Whereas this could permit the show to show some big names in cameo roles, it will more likely focus on bringing various obscure characters who would never have seen the light of day without this Tatiana Maslany-led series.
---
---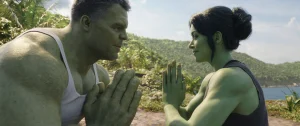 Though this new version of the show is centered around a new character adding to the franchise of MCU, titled as She-Hulk: Attorney at Law, it has already made its establishment within the MCU universe. This became possible due to its use of various Marvel characters that are previously established and those that are completely set to appear in the upcoming series. Mark Ruffalo will be playing his role as original Avenger Bruce Banner or The Hulk along with The Incredible Hulk villain Emil Blonsky, created by Tim Roth. It is his first human form appearance since the 2008 film. Matt Murdock or Daredevil (Charlie Cox) has also been featured and was seen in the promotional She-Hulk trailer. He got to feature in the series alongside a cameo from Doctor Strange's Sorcerer Supreme Wong (Benedict Wong). The idea of the show put itself into many cameos and appearances from various characters in the MCU. But  Jessica Gao the series' head writer had previously revealed that Marvel Studios She-Hulk has shut down many of She-Hulk cameos including a potential one from Spider-Man.
Where you can watch Marvel's She-Hulk: Attorney at Law?
People can watch Marvel's She-Hulk: Attorney at Law on Disney+.
Who is an actress in Marvel's She-Hulk: Attorney at Law?
Tatiana Maslany is an actress in Marvel's She-Hulk: Attorney at Law.