Adrienne Bailon and Israel Houghton Son Was Born Via Surrogacy
Adrienne Bailon, the former 38-year-old co-host of "The Real " and her musician husband, Israel Houghtonwelson's son was born via surrogacy. Adrienne Bailon- Houghton's Instagram comment section is continuously flooded with a lot of congratulatory comments from many renamed actors on Tuesday post the surprise announcement made by the couple, that Israel Houghton and Adrienne Bailon welcomed their first baby earlier this week through surrogacy.
Adrienne and her husband, Israel Houghton both posted a stunning black and white photo on their official Instagram handle. The lovely picture shows Adrienne Bailon and Israel Houghton baby boy on Tuesday and the bundle of joy, stating that they had welcomed the little one via surrogate and named him Ever James. The photo they shared is the couple holding their newborn son. The birth was a complete surprise to the public, as Bailon has previously talked about her difficulty with conceiving a baby. But the couple had not shared anything expected related to this news prior to the post.
The couple has tied their knot since 2016, didn't talk about their pregnancy journey, and kept it under wraps. The new mom says "If you have been with us all throughout our love story, then you might understand that our journey for us to have a baby has been really tough and challenging. But god is there  to keep  his word and his promises." She continued, "We have silently prayed for the last nine months regarding the most magnificent secret of our life. Our son is worth every pain and tear, every disappointment, every delayed prayer, every IVF cycle, every miscarriage, and everything." Around three years back, in an interview, she was asked what is the next chapter in her life she wants. To this Adrienne replied that she wants to be a mom. And now she is living her dream into reality. She knew that the next chapter of her life is building a family and the birth of her son is probably a way to complete her circle. As of 2022, various reports stated that Adrienne Bailon Houghton Net Worth is approximately $5 Million. She is one of the popular singers and television presenters, who gained immense popularity. Adrienne Bailon, and Israel Houghton's age is 38 and 51 years respectively.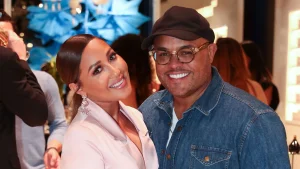 Quickly, the comments bloomed with celebrities pouring lovely messages and reactions over their posts. "I am so much more happier for you!!! The little boy is the luckiest baby in the world to have you both as his parents," Khloe Kardashian wrote. "You are going to be the best and most incredible mommy! I love you! Enjoy every second  of this moment ❤️." Khloe wrote they recently welcomed her own son via surrogate with her ex, Tristan Thompson. Garcelle Beauvais, who is Adrienne's fellow co-host in The Real, reposted Adrienne's photo to her own Instagram Story and wrote, "Her dream came to reality" below with several clapping and heart emojis. In the comment section, Garcelle also wrote, "I couldn't be more happy for Ade !!!!! Your prayers and dream came true ?? lucky little boy ?" Although this is Adrienne's first baby, Israel is a father of four children from his previous relationship, sons named Jordan and Israel and daughters named Mariah and Milan. Israel Houghton and Adrienne Bailon's wedding took place  in December, in Paris