Derek Jeter Reveals Little In ESPN Documentary, NFT, Wife, Affairs
Derek Sanderson Jeter, born on 26 June 1974 is an all-American professional baseball player, businessman, and baseball executive. As a former baseball player Derek Jeter spent his entire 20 years establishing his career in Major League Baseball serving the famous New York Yankees.
Derek Jeter dated a renowned model Hannah Davis in 2012, the two got engaged in 2015. In 2016 the couple finally fell into a commitment and got married. On February 13 of 2017, Derek Jeter's wife announced that she was pregnant and gave birth to a beautiful and healthy baby girl in August. Derek and Hannah are blessed with three daughters and are living a very happy life.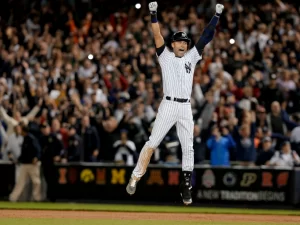 Before being a committed man, Derek Jeter had many past relationships and affairs. Derek Jeter's girlfriends were all famous personalities and from time to time they made headlines with this former baseball star. He was in a well-publicized relationship with singer-songwriter Maria Carey, who also wrote a song on their first kiss. After breaking up with Carey, Jeter had a long list of girlfriends, he dated model Vida Guerra, former Miss Universe Lara Datta, singer Joy Enriquez, and television personality Vennessa Minnillo, and actresses Jordana Brewster, Jessica Biel, and Minka Kelly.
Derek Jeter was awarded the HALL OF FAME and therefore a card is honored to all those baseball players and then auctioned at many parties. Derek Jeter's rookie card 1993 SP is the most sought card among all the others. It is the most popular card among the top Upper Deck. There are a total of16 Derek Jeter Rookie Cards and their total worth is about $1,000.
At the Nassau Bahamas, Derek Jeter hosted an all-celebrity golf tournament at the Royal Blue Golf Course, each celebrity put their A-game in the field and this charitable event made $1million. It was hosted by Baha Mar itself; the four-day event of the Derek Jeter golf tournament 2022 donations went to Derek Jeter Turn 2 Foundation.
DraftKing Marketplace has a drop site in which all the famous athletes NFT and buy which includes merchandise, fanco pop, and their autographed collectibles. DraftKing Derek Jeter NFT has a mystery container that has the official autograph of the star himself and it is included in the set of the Captain Collection.
Founded in 2008 The Derek Jeter Center was opened as a facility to honor the baseball legend, the institute helps families deal with outpatient teen substance use and mental health issues. Seeing the generosity and the compassion of this organization Derek Jeter himself along with his Turn 2 foundation donated $1 million which boosted their treatment and helped the organization grow at a larger scale.
The leading star, a former Yankees player, and a charitable member of an elite society Derek Jeter has earned his name on the Wall of Stars. Today Derek Jeter net worth is $200million, during his baseball year he used to make $265million as his baseball salary. He is the highest-paid baseball player in recent sports history.