Harry Styles Spits on Chris Pine Watch Live Video
Harry Styles Spits on Chris Pine!
The fans are going crazy over this leaked video of Harry Styles spitting on Chris Pine. The video was of inside the theater where both the actors were present at the premiere of their film 'Don't Worry Darling' at the Venice Film Festival. The fans shared and re-shared the leaked video while showing their emotions over this act conducted by Harry Styles.
Watch Harry Styles Spits on Chris Pine's Video
The video was a small clip that was leaked from inside the theater of the Venice Film Festival where both parties were present at the premiere of their film 'Don't Worry Darling'. In the clip, it was shown that Harry was coming back to his seat but before he sat down, he allegedly spat on Chris Pine's foot Chris stopped clapping and gave a nervous smile as shown in the video. When it was uploaded it took the internet by storm while many criticized Styles for his unprofessional behavior there were those who also came into his defense and denied what they saw. The video soon became viral and caught the attention of Chris himself who saw what the ruckus was about and soon the explanation came forward after the official statement was released by Chris Pine's management team.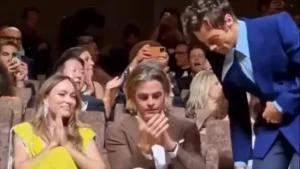 Chris Pine Rep Denied All Allegations False
Chris Pine has finally responded over this viral video that was leaked inside the theater which looked as if Harry Style spit on Chris Pine at the Venice Film Festival. Chris Pine's representative dismissed claims of Harry spitting on Chris and called this act 'ridiculous'. They issued a statement while having talks with Variety.
As per Pine's rep: "This is a ridiculous story — a complete fabrication and the result of an odd online illusion that is clearly deceiving and allows for foolish speculation."
The statement further read: "Just to be clear, Harry Styles did not spit on Chris Pine. There is nothing but respect between these two men and any suggestion otherwise is a blatant attempt to create drama that simply does not exist."
Meltdown over this viral video where fans took to Instagram and shared their views on the matter. The clip in which Chris was shown watching his lap while he stopped clapping and gave a nervous laugh was something the fans couldn't seem to understand and Harry coming to sit right at that moment and looking at his foot gave a more solid statement that he spat near his lap which produced such a reaction from Chris. Despite the video being shared and re-shared, there was no official news that came from Chris Pine's team until very recently and which caused a halt to all the drama that was caused by this video.