Johnny Depp as King Louis XV: First Image Released of Actor in 'Jeanne Du Barry'
It's a treat for all the Johnny Depp fans as some new pictures of him on his new project have been released. The production team of Why Not Production, one of France's production houses revealed a teaser image of Johnny Depp as King Louis XV which is directed under Maiwenn's popular love story Jenny du Barry in which she also co-starred as a titular courtesan. The production also confirmed that the shoot for this project will also be started on July 26 for 11 weeks which includes some famous locations in Versailles and other regions of beautiful Paris as well as the studio in the film.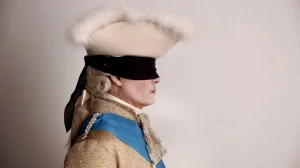 The role and the production of the film mark the first project for Johnny Depp in three years and also after his hot and media flaring highlight of the year defamation trial against his ex-wife Ambear Herd to which he emerged as a hero and won the trial as well his lost reputation.
The story of this colorful drama of love and culture is based on the life of Jenny Du Berry, King Louis XV's last mistress at the court of Versailles after Madame de Pompadour. The story shows a young and ambitious young girl with her head in the clouds of dreams. This young working-class woman who is hungry for culture and pleasure uses her intelligence to achieve the social reputation she craves for. Her thirst and her drive to achieve made her King Louis XV's favorite and not knowing that she is a mere courtesan, love bloomed in the heart of the king and with no background, no proprietary, nor the proper etiquette Jenny entered the courts of Versailles and the actual love story started in the heart of a scandal in the court.
Alongside Johnny Depp further cast members that are in the film include Benjamin Lavernhe, Pierre Richard, Melvil Poupaud, Noémie Lvovsky, Pascal Greggory, and India Hair. Pascal Caucheteux and Grégoire Sorlat's Why Not is lead producing with IN2 and France Télévisions also on board as producers. The French-inspired with a heavy cultural background was applauded much at the Cannes Film Festival where the movie gathered a lot of good responses when presented in the Festival. Jenny du Barry is Maiwenn's sixth powerful production to date after the Cannes 11 Jury Prize Winner Polisse; My King, for which Emmanuelle Bercot won the best actress in Cannes in 2015, and semi-autobiographical work DNA, which was feted with Cannes special 2020 label.
---
---
Maiwenn while directing and co-starring also co-wrote the screenplay along with Teddy Lussi-Modeste. Key crew includes cinematographer Laurent Dailland, production designer Angelo Zamparutti, costume designer Yurgen Doering, John Nollet on hair design, Tom Pécheux on make-up and Nicolas Provost on sound. Stephen Warbeck is composing the original music.
It sure looks interesting news with a whirlwind of a plot that takes you back to the old French era that was filled with ball gowns, kings, riches, courts, love, and scandals. The bonus on all of this is that Johnny Depp himself is starring as King Louis now. If that is not something to go and get tickets to watch the first show of this sure masterpiece then we don't know what it is. The release date is yet to be announced but that teaser picture did intrigue the fans and no one can wait to see Johnny Depp in the King attire spewing all things French.
Which is Johnny Depp's upcoming Film?
Johnny Depp's Upcoming Film is 'Jeanne Du Barry' in which he is doing the role of King Louis XV.
Whose role Johnny Depp is doing?
Johnny Depp is doing the role of King Louis XV.