Not Only Just Food, But Uber Eats Will Also Deliver Marijuana To Doorsteps in Canada
Uber Eats Will Deliver Marijuana In Canada
Uber has partnered with Leafly. It is a marijuana use and delivery company, to make its product available to its consumer's doorstep.
In Canada, licensed stores are where adults of legal age can buy products made from cannabis. It will now be delivered to your door by Uber Eats in a new move. People who smoke have expressed enthusiasm over this news and a desire for their individual governments to act quickly. As the word spread, funny reactions flooded social media. While others wanted to migrate there, some applauded the current action taken by the Canadian government.
In Canada, Uber Eats will deliver marijuana to homes
Customers of Uber Eats in Toronto, Canada will be allowed to order marijuana as of Monday. This is a result of Uber's affiliation with Leafly. According to Leafly, this is the first time marijuana delivery will be offered through a significant third-party delivery platform. If you are over 19, you may order marijuana this way, but those who deliver the order must also confirm the customer's age and sobriety in order to comply with Canadian legislation.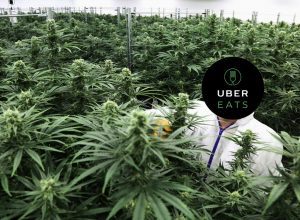 Netizens' responses to the new action by Uber
The decision to legalize marijuana in Canada has gained support from the people, and the collaboration between Uber Eats and a cannabis delivery service has also been warmly received online. One Instagram user responded to the news by writing, "In a dash they'll bring your hash," and another wrote, "Just legalize it everywhere."
"This will decrease the need for customers to purchase marijuana on the black market," Uber cited as the reason behind new move
Adults who are 18 years of age or older are legally permitted to possess up to 30 gms of legal cannabis, subject to provincial or territorial limits. Cannabis edibles and concentrates can be purchased legally as of October 17, 2019. According to Uber Eats, the decision will lessen the need for customers to purchase marijuana on the black market. Although ordering cannabis through some Leafly sellers is already available, the app may make it simpler for users to do so. Some companies promise delivery in 45 minutes or less, however, UberEats may frequently be faster.
---
---
With the launch of Uber Eats' delivery in the city today, Toronto residents now have another option for ordering cannabis without having to wait too long for it to arrive. To provide residents with quick marijuana delivery from nearby, authorized merchants, Uber Eats has partnered with cannabis marketplace Leafly. According to the need for customers to purchase marijuana on the black market. Eats is a "significant third-party delivery platform" world first. Since last November, users in Ontario have been allowed to order marijuana through the app, but up until this point, things were only accessible for pickup. If you're in a city and feel the need to relax, you can browse the cannabis category or look up a merchant (the first three to sign up are Hidden Leaf Cannabis, Minerva Cannabis, and Shiva's Rose). You will be informed that you must be of legal age, which in Ontario is 19 years old, in order to view the products. A licensed "budtender" employed by the merchant will deliver your goods when you place a purchase and they confirm it. The delivery person will confirm your age and level of sobriety before giving you the items, just like with alcohol orders.