Meghan Markle Mansion Update: 'not being able to afford' her $14m house
The Duchess of Sussex said about the mansion, "I do not intend to go and look for all those things that I am unable to afford as it really does not feel good".
When Meghan Markle and Prince Harry quit their position of working as members of the Royal family and announced their tough decision to leave the United Kingdom and royal family, many people were surprised. People wondered where the royal couple would move to and what work they would do for a living. Definitely, Meghan had money secretly stored away that she earned from her longtime acting role on Suits. Prince Harry inherited some property from his late mother, Princess Diana, as well as had some other private funds. But even though the couple pooled together all their assets and properties, they were unable to afford to live the lavish royal life they were used to. During her latest interview with The Cut, New York Magazine, Meghan opened up and talked about the financial issues the couple had when they decided to leave the UK. Further revealed that it did not feel that it seemed to unafford the $14.65 million Montecito mansion, on which they had their eye. Here are some highlights of this.
The Montecito Mansion Keep coming Up in Their Searches
The Duchess of Sussex told Davis, The Cut magazine that she and Harry had a wish and their eye on buying the Montecito mansion, which they call home in present time while they were still staying in the UK. Meghan told her that they were looking for a house in this area of Montecito in California. This house always kept on coming up online in searches."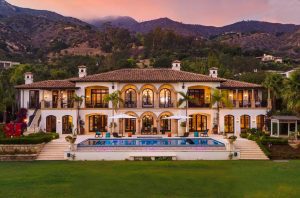 But the beautiful property Cost $14.65 Million, which Harry and Meghan were unable to afford.
The property, which Davis described is a classic Tuscan villa. It has a Napa vineyard and a Beverly Hills country club surrounding the villa. It was listed for a massive amount of $14.65 million. The beautiful house has nine-bedroom and sixteen bathrooms. The costly estate also included a pool and tennis court alongside. And, according to Meghan, as the couple was jobless at that time, it seems unrealistic for them to think about their house.
"We both were jobless" Meghan Said
"We don't have jobs so we dropped the idea to visit the house again. As it is really tough to see this," Meghan said about their commitment. "It is similar to when I was young and we used to like window shopping. As it is more like "I do not intend to look for those things including the house that I am not able to buy as it is really a difficult feeling".
They Did Everything They Can, to Afford Their Dream House
However, during The Cut interview, Meghan told the publication that she and Prince Harry did everything they can, to afford their dream home.
Further, she added that they loved the garden especially. There are two intertwined palm trees in their garden of the property, which is similar to her relationship with Harry. "Look at the ends of those two trees, they are joined with each other from roots," Meghan said. "He says my love, this is us two.' Now every day our son, Archie goes by the trees and says 'Hi papa, hi momma.'"