John Daly, A Golf Player On PGA Championship Tour
John Patrick Daly, the famous golf player on the PGA tour, has always been the highlight of sports news due to his exceptional driving distance off the tee, his non-country club appearance, and his carefree attitude. He is also known for his fantastic backswing, his inconsistent play on the field, and his personal life.
The famous golf player John Daly has been in and out of many controversies. He has been in the headlines for his laid-back lifestyle, his drinking and chain smoking habits, his way of dressing, and of course John Daly's wives. The 50-plus-year-old man has been married four times in his life. Though he has been involved in many affairs and has been caught dating, it was these four personalities that made everything official. John Daly's first wife Dale Crafton was a model and came from a very rich background in Arkansas. The two got hitched in 1987. However, their marriage broke off in 1990 before he won his first championship game and earned him the limelight as 'the famous golf player'. In just a couple of months after the divorce, the controversial golf star made the headlines again as he got married again, this time, to Betty Fulford in 1992 but the marriage did not stay for long and they broke off in 1995 after John Daly was accused of sexual assault; the victim claimed that he pushed her in the wall in anger.
---
---
Not soon after the second marriage fiasco, John got into a third marriage with Paulette Dean but, yet again, John's carefree attitude didn't sit well with her and they too, just like all his previous marriages, parted ways in 1999. After staying a bachelor for two years, he found Sherrie Miller and they made an exceptional couple that the people actually thought might last long but unfortunately the marriage ended as well. John is now in a long-term relationship with Anna Cladkis. While there are no wedding bells for them in the near future, the two are pretty happy as an engaged couple.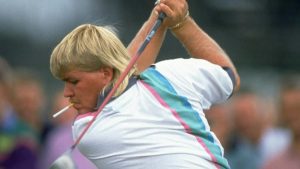 This famous American golf player has faced two major problems, smoking and an excessive amount of gambling and it has affected his hard-earned money. John Daly has a net worth of $ 2 million which would have been much higher had he not lost tens and millions of dollars on gambling and alimony to his failed marriages.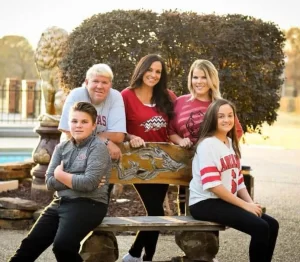 When we say golf, the first player that immediately comes into our mind is 'Tiger Wood'. The infamous golf player couldn't hide from the media and was seen with John Daly at the golf ground during practice. The photo took Twitter by storm where Tiger is seen in the usual golf regalia (all-black activewear, a sports hat, and shoes) while on the other hand, John Daly is seen in pink shorts, a blue Hawaiian shirt, and smoking. The Twitter test compared the two major golf players and commented on their attire. Some even laughed at the apparent professionalism of Tiger while Daly looks to have 'rolled for a picnic by the beach.' The picture was shared by Caddie Network with a caption;
'These men play the same sport at the highest level. Only in golf.'
Though John and Tiger have never played a tournament together or seen as friends on the ground, this one photo enlightened their fans in a totally different way.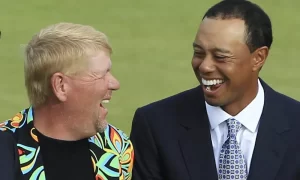 FAQ's
What is the net worth of John Daly?
The famous golf player John Daly has a net worth of $ 2 million.
Is John Daly qualified for the PGA Championship 2022?
Yes, John Daly is qualified for the PGA Championship 2022.
What is the age of John Daly?